KoRn HiStOrY
---
Where did the name "KORN" come from?


Jonathan Davis on Loveline: "I told this story a zillion times, man. Story about a party...Bakersfield...um, two homosexual guys um, really drunk, talkin' about having sex with each other and they were performing a thing called feltching...and uh...anyway he felted a guy - the guy uh, proceeded to blow diareah all over his face...lost control, and when he opened his mouth he had a corn kernel on his tongue! Yes, that's the story, and that's where it came from. And I used to go around town saying, corn to a certain one of my friends - we knew the story and everytime I said corn to this one guy he'd throw up. Everybody's got a KoRn story!"

My personal belief regarding the name, Korn is this: Jonathan Davis worked at the Kern County Coroner's Office in Bakersfield, CA. Kern and Coroner combined makes up KORN. Who knows.

The angsty rap-metal quintet Korn has emerged from obscurity to become one of the most popular new bands of the 1990s, building an underground fan base worldwide through touring, not MTV imagery.
The roots of Korn go back to 1992 in the agricultural city of Bakersfield, Calif., where James "Munky" Shaffer (guitar), Brian "Head" Welch (guitar), Reginald "Fieldy" Arvizu (bass) and David Silveria (drums) formed a heavy metal band called LAPD. After recording one album, LAPD dropped their singer and became Creep; with the addition of vocalist Jonathan Davis
-- a mortician-in-training who formerly fronted a group called Sexart -- the band moved to Huntington Beach, near L.A., and became known as Korn. Their 1994 major-label debut, Korn, took off slowly, but after nearly two years of touring with Ozzy Osbourne, 311, Marilyn Manson, KMFDM and Megadeth, Korn had sold over 700,000 copies of their LP and built a large, loyal fan base of alienated small-town teens.
Their 1996 follow-up, Life Is Peachy, produced by Ross Robinson, debuted at No. 3 and spawned the radio hit "A.D.I.D.A.S.," signaling that despite its uncompromising sound, Korn had become a force to be reckoned with. During a stint on that summer's Lollapalooza tour, Korn proved to be by far the most popular attraction; two years later they launched their own "Family Values" tour as headliners. Also in 1998 the group garnered massive publicity when a student who wore a Korn shirt to school in conservative Zeeland, Mich., was suspended because his principal believed Korn's lyrics were "obscene;" the band responded by giving away free t-shirts outside the school.
The latest Korn album, Follow the Leader, was released in August 1998.

Seth Hindin

© 1999 Rolling Stone Network.

Being a band constantly on the cutting edge, KoRn kept fans aware of their existence between the Life Is Peachy album and the Follow The Leader album with KoRnTv.

The band kept fans abreast on the new album via what they called KoRn's After School Special. An internet based show that aired every Thursday at 4:30pm. Guests included P-Nut and SA from 311, Ice Cube, Steve Vai, Limp Bizkit, Cheech Marin, Ron Jeremy and many more. Fans got an inside look as the Follow The Leader album was created, keeping the buzz about KoRn constant. KoRn then went a step further by traveling across the country promoting the release of that album with the KoRn Kampaign.
The band went to various cities across America doing Q & A sessions with fans and then signing autographs. Rarely ever has a band generated such a buzz as KoRn.

In late 1998 KoRn launched the Family Values tour.
A traveling show that exposed many to the likes of Ice Cube, Rammstein, Orgy, Limp Bizkit, Incubus (who joined the tour after Ice Cube had to leave for prior obligations) and of course, headlining the tour was KoRn. The tour was a huge success and the band hopes to keep it going for years to come with different bands on the bill.


KoRn then set out again, right after getting off the Family Values circuit, on tour with Rob Zombie and Videodrone (one of the bands on KoRn's elementree label).

Korn released their 4th album entitled, "Issues" Nov. 16th, 1999. The first thousand copies contained a bonus song, "I Am Going Crazy".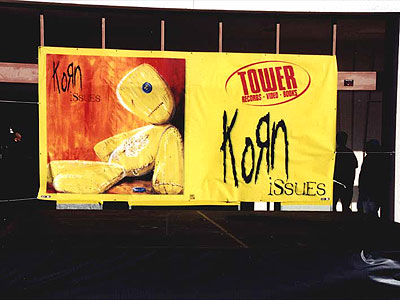 Korn continues to stretch out in many ways. The band appeared on the cable tv show, "South Park", premiering the first single off of the new album "Issues", "Falling Away From Me". The band also appeared at the first couple 1999 Family Values shows, unannounced.

Korn -- Jonathan, Munky, Head, Fieldy and David -- performed Issues in its entirety and in sequence on November 15 (the eve of the album's release) at Harlem's Apollo Theatre. Even more extraordinary, a choir as well as the Pipes & Drums of the Police Department of the City of New York Emerald Society provided additional instrumentation (although neither are featured on the album). Both the choir and back-up musicians were conducted by acclaimed musical director Richard Gibbs (who has composed music for films such as "Dr. Dolittle" and "Say Anything" and has worked with Robert Palmer, Chaka Khan and Aretha Franklin).
The audience at the Apollo Theatre was predominantly made up of radio contest winners who were chosen from around the world. These winners were selected by the radio stations which which broadcasted the event live in its entirety.

The Sick and Twisted tour featured Staind and the Spike And Mike's Sick and Twisted Festival of Animation. This tour was during the year 2000 and featured the biggest KoRn stage set up of all including giant dolls from the insane asylum Issues album cover.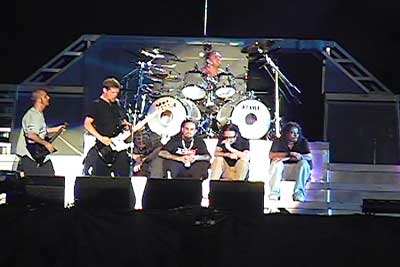 Korn also played with Metallica on the Sanitarium tour and on one date Fieldy and Jonathan actually helped out on vocals for Metallica songs due to James Hetfield's illness.

Korn is currently recording their 5th studio album. båçk